Joined

Feb 28, 2018
Messages

36
Points

18
I've never felt the need to deviate far from the stock interface, but then I saw this beauty of a homescreen: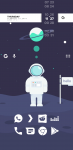 Talk about
woah
. The consistent aesthetic, the fascinating clock and even the minimalism... I don't really care for minimalism because I use too many apps, but it looks absolutely beautiful! To the point where I really want to give something like this a try. I know for sure that you can't achieve this with the stock LG launcher, so I was wondering
what your favourite Android launchers are?
I took a look at
this list
and picked some contenders:
I really liked the introductory video for Lawnchair, so I guess I'm into that aesthetic although the Material Design look is just standard now
I think the Shutter functionality of Action is cool and probably useful
I've tried the Microsoft launcher and switched back to the stock LG interface. I honestly think I just wasn't used to the Microsoft interface and so switched back, so I might give it another try. In fact, I'll switch over now and see how I feel after a few hours!
So, what are your favourite launchers? Any advice on how I can get a coherent aesthetic, like the Space one?
Thanks for your time and help!
edit:
Alright, I played with the Microsoft launcher for a few minutes. I love the Material aesthetic of the
info cards
on the left. To be honest, I probably wouldn't use them that often, but I like having the possibility to use them.
I like the customisation options but would like even more if possible. I think the thing that's really turning me off this launcher, petty as it is, is
the lack of a background
on the weather/time widget. I can't see it if it's transparent!
Last edited: