Joined

Mar 24, 2018
Messages

7
Points

3
I saw that apple is now advertising their iPad with a keyboard attached to it. It looks likes this one: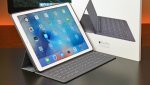 And thus I was a bit curious on how it works.
I have three iPad devices; iPad mini, iPad 2017 and iPad pro 10.5. I went to a store (not apple store) to inquire if they sell keyboards compatible to said devices. I did not go to an apple store since their products are too expensive for its price. Considering also that that there are a lot of negative reviews about their keyboard.
So the store have available keyboards for iPad mini and iPad 2017 but for iPad pro 10.5 there's none available yet (this model is newly release when I went there). I decided to buy one for my iPad 2017. I tried the keyboard compatible with my iPad mini but it was too small and it very irritating to use. Imagine your big fingers pressing those small keypads. Buy the way. it is a local brand keyboard, it has no specific brand. The reason why I bought one is to see if my iPad with a keyboard have the same or better functionality with my laptop. Here are attached photos of my iPad 2017:
and here are some of my observations:
Pros: iPad 2017 with keyboard
it is handy
light to carry
you can carry it anywhere
the battery of the keyboard can last the whole day
as well as the ipad - unless you are connected to the internet
the ipad have its own MS Word version which is the PAGES app
fast response - as you type it will appear immediately in the ipad
Cons: iPad 2017 with keyboard
MS Word is still the best when you compared it with Pages

pages: limited functionality - you cannot put table of contents and the like
unless you have a bluetooth printer you cannnot immediately print it
limited file version - available only for pdf, word, or epud

when you are into software also you cannot do your stuff in the ipad
it is limited - you can only use apps that are available in the apple store

take note also that there are apps that are available to laptops that has no version in an ipad
even if it has version the developer tends to limit its functionality
to Conclude: I still prefer to use my laptop.
What about you? Would you replace your Laptop for an iPad or Tablet? Any comments?