Joined

Jan 22, 2013
Messages

18
Points

2
The predictive text on Android are words suggested during the typing input process. But this feature sometimes makes users unhappy, and here is the way how to turn off predictive text on Android.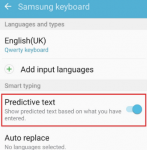 To turn off predictions from on Android you do as following steps:
Note that each smartphone has different operations so you can leave comments to receive instructions if this is not the same with your device.
Step 1
: Go to Settings on your Android smartphone.
Step 2
: Select General management>
Step 3
: Language and keyboard.
Step 4
: Enter the virtual keyboard.
Step 5
: Choose the keyboard you are using (for example: Samsung).
Step 6
: Select Predictive text and turn on/off this feature.
So, you've turned off off the predictive text on Android.
Hope it helped.
Last edited: